Watch Video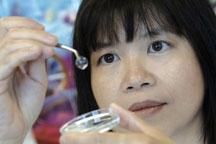 Play Video
Scientists in Sweden have used bio-synthetic corneas to restore vision to patients in a small human trial.
The results have been good, offering hopes for millions of people who go blind each year due to a shortage of cornea donation.
The scientists removed diseased corneas from 10 patients and replaced them with bio-synthetic implants designed to mimic a normal human cornea.
The scientists found that the cells and nerves from nine out of the ten patients regrew completely and packed themselves into the implant, resulting in a kind of "regenerated" cornea that looked and functioned like normal, healthy eye tissue. The patients' vision was comparable with that of patients who undergo regular human corneal tissue transplants.
Dr May Griffith, Prof. of Regenerative Medicine, Linkoping University, said, "There is a world-wide shortage of corneas and there are estimated between five and ten million who need them so what we're trying to do is to develop biosynthetic replacements for human corneas so that these would be made available to the people who need them."