Watch Video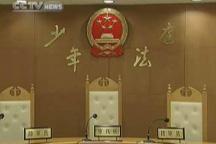 Play Video
Some judges say the amendments to the Criminal Law are expected to give juvenile criminals more chances to start anew.
65-year-old judge Shang Xiuyun has been working in a Juvenile Court in Beijing for 23 years. She says if the amendment are made into law, more juvenile criminals would have chances to correct their mistakes.
Under the Criminal Law, if a criminal is identified as well-behaved during probation by the court, their sentence will automatically lose its potency.
Shang Xiuyun says of the more than one thousand cases she has tried, less than a third of teens have been given probation. Once the probation system is applied, that figure is likely to increase. It will be very unlikely juveniles on probation violate the law again.
Shang Xiuyun, Judge, Beijing, said, "When you are on probation, you will not go to prison. Teens are easily influenced by their surroundings, so not going to prison is definitely a good thing for them."
A criminal record is what most criminals want to get rid of. It is a constant reminder of past wrong-doings and may become a stumbling block for career advancement. With the changes proposed, juvenile criminals have more chances to start anew.
Shang Xiuyun, Judge, Beijing, said, "The amendment says the sentence of less than five years will not be included in criminal record. From my experience, nearly 80 to 90 percent of them are sentenced with less than five years."
There is an old Chinese saying that a false step may cause a lifelong regret. This is especially true for teens who break the law. If the changes finally become law, juvenile criminals are expected to have more chances to start over.
Related stories
Editor:Zhang Pengfei |Source: CNTV.CN