Watch Video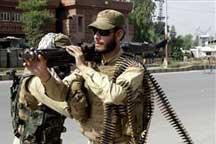 Play Video
Security forces have stormed an army intelligence office in Pakistan's northwestern city of Peshawar. They freed two people who had been taken hostage by escaped militant prisoners.
According to a police official, the trouble began as about three or four militants were being moved inside the offices.
Liaqat Ali Khan, Peshawar Police Chief, said, "During this process of shifting from one compound to the other there were two guards with them. They attacked the two guards, overpowered them and snatched their weapons. They try to run away, but the security cordon all around the compound was very very alert"
One guard was injured in the shooting. That was followed by a 10-hour gun-battle and the operation to free the hostages.
Liaqat Ali Khan said, "After negotiations and efforts when they got to know that there is no way out but to surrender, so they finally they laid arms, they surrendered, they have given themselves up, released the two captives they have taken, and now we have locked them up."
Police officials say militants had attacked the army intelligence office from the outside. Peshawar is the capital of troubled Khyber Pakhtunkhwa province, where militants often target police and security forces.
Related stories
Editor:Du Xiaodan |Source: CNTV