Watch Video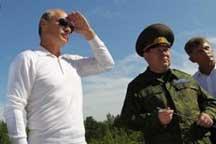 Play Video
Russian Prime Minister, Vladimir Putin, has announced Russia will launch its manned space missions from a new center in the country's Far East in 2018. The move is part of the nation's plan to seek greater independence for its space program.
Putin made the comment as he visited the site of the new cosmodrome. It is being built on the former missile defense base of Vostochny, 5,000 kilomters east of Moscow. Russia currently uses the Soviet-built Baikonur launch facility in Kazakhstan for all of its manned space missions, and has paid around 115 million US dollars to Kazakhstan in rent. Putin stressed the strategic need for Moscow to have independent access to space.
Putin said, "Construction of this project will give us the opportunity to confirm Russia's technological status. It will give us a chance to mobilize our intellectual resources and industrial potential, and it will give hundreds or maybe thousands of young professionals a chance to use their talent and realize their most ambitious plans."
New technology will make the new site ten times smaller than Baikonur. Launches of the first unmanned spacecraft from the new center are expected in 2015. The first stage of the construction will take nearly 800 million US dollars. Oil revenue in the past years have allowed the Kremlin to spend much more on Russia's space program.
Editor:Du Xiaodan |Source: CNTV.CN