Watch Video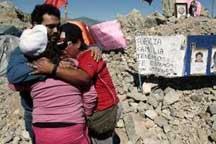 Play Video
Relatives of the 33 trapped miners have continued to camp outside the entrance to the San Jose mine. Few rescues have ever taken more than two weeks, but Chilean officials have said that his rescue operation may take until Christmas. Meanwhile, rescue workers are doing everything they can to comfort relatives waiting outside the mine.
Each day, the families gathered outside the mine waiting for news and praying for their trapped husbands, fathers, brothers and boyfriends. They stay on site, in tents, where cold nights end in a chilly fog.
Elizabeth Segovia, Relative of Miner, said, "We are calmer now, knowing they are fine, getting food and everything a person should be getting. But we won't be completely calm until they get out of there"
Psychologists are trying their best to keep the relatives in good spirits.
Many children are also waiting among family members.
On Friday, an officer set up a marionette theatre for the children there. The officer has been performing across the country for children who were victims of last February's earthquake.
Roarigo Berger, Chief of Copiapo Police Force, said, "We have many, many children here, children who are suffering in this place but we have to remember they are only children. That's why we brought in a police officer who has travelled the country bringing joy to the children."
Rescue efforts have advanced with a large drill machine arriving at the site to dig a tunnel just wide enough for the miners to be pulled out one-by-one.
A third bore hole is being dug for improving ventilation for the trapped miners.
Editor:Du Xiaodan |Source: CNTV.CN