Watch Video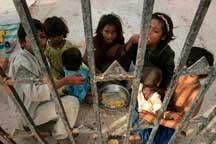 Play Video
Hundreds of thousands of Pakistanis fled floodwaters, after the surging Indus River smashed through levees in Sindh province. But while the floods have displaced up to one million people in Sindh, the situation is changing in Punjab, where thousands have set out on the long road back to their homes that were devastated by the floods.
Floodwaters broke more levees protecting the southern city of Thatta. Thousands of residents fled for high ground, leaving the city mostly deserted.
Both sides of the main road were crowded with people fleeing the floodwaters.
Many spent the night sleeping out in the open.
Zainab Bibi, Flood Victim, said, "When the floodwaters hit my house, we immediately left home without picking up anything. I took only my children and came here. All my household belongings were swept away in the flood."
But the situation is different in the northeast province of Punjab. Thousands that were displaced are beginning their arduous journey back home.
Many of the roads are barely passable, either still under water or severely damaged.
The Pakistani army begun repairing some of the roads.
They have also been organizing convoys of trucks and tractors to take the displaced back to their towns and villages.
Rashid Hassan, Pakistan Army Major, said, "It is a difficult thing, because they need lots of money to reconstruct...all the animals on which they were depending, they have been....this water has taken them away. There are so many deaths as well. So it's a very difficult thing, especially mentally, psychologically and physically."
Related stories