Watch Video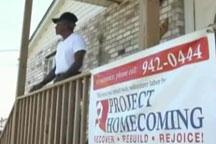 Play Video
Meanwhile, an organization called Project Homecoming, is helping residents rebuild their homes. Nathan King looks at the situation in the ninth ward.
Vann Joines is on an uphill mission- five years tens of thousands of those who lost their homes here in New Orleans 's ninth ward have yet to come back, boarded up houses are the norm not the exception.
Vann Joines, Project Homecoming, said, "If you are looking at the greater city of New Orleans as a whole-There have been estimates that up to 55,000 or so houses remain blighted-There are over 200 families who are still living in Fema trailers on their properties. People in New Orleans are still in very desperate and dire situations."
But through project homecoming Joines is helping bring the residents back one by one.
Kim Ford is one such 9th Ward resident, through project homecoming her hose was rebuilt by an army of volunteers....she remembers the pain of five years ago and with her husband Mark the delight to be back home,in a fully refurbished houses.
Kim Ford, Nonth Ward Resident, said, "And when I saw the house I just kind of sat across the street on the curb and I cried for a while, Because it was just so bad....But the first time I just turned the corner and just saw all of these volunteers all over the house. They made me cry...I was just like wow I may have a chance of getting this house back after all."
Money promised 5 years age in the wake of Katrina has been slow to trickle down here. the US government State and city money are criticized often in this town, but armies of volunteers have stepped into the vacuum- but it is not enough.
Project homecoming also helped rebuild Wesley hall's house after contractors used up his life savings and left him in the lurch, while he's thankful he sees a once thriving neighborhood abandoned by his city government.
Wesley Hall, Ninth Ward Resident, said, "It looks like they ought to try and come and pick up the trash or something. They got all of this here They don't pick the tires up I don't know why."
Five years after Hurricane Katrina New Orleans has started coming back, but progress especially in the poorer areas is slow.
Related stories
Editor:Zhang Pengfei |Source: CNTV.CN