Watch Video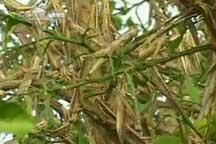 Play Video
Australian farmers are bracing themselves for the country's worst locust plague.
With millions of dollars of agriculture under threat, Andrew Dupuis tells us how farmers, scientists and governments are racing against time to minimize their impact.
Locusts are no stranger to Australia, with plagues of varying size hitting the country most years. But the huge hatch-out expected to occur from September onwards is predicted to be the worst in at least three decades, and has been causing concern for months. An expert says locust eggs have been laid across a huge area in the eastern states and the weather conditions are helping the hatch.
Associate Prof. Greg Sword, University of Sydney, said, "The weather, so far indications are that it's going to be very favorable for those hatchling to survive and reproduce, and the conditions have been described by some as setting the stage for 'the perfect swarm'."
The first locusts are expected to emerge in September. With the threat only weeks away, town meetings are being held daily across New South Wales to educate farmers about how to deal with locust plagues. A plague locust hotline has also been set up. In addition, extra funding has been pledged to tackle the 2010 swarms.
Steve Whan, Minister of New South Wales Primary Industries, said, "We've set aside 16.5 million dollars to tackle this year's locust plague. We have a network on the ground of our Livestock Health and Pest Authorities, and they work with farmers to make sure that we're getting chemicals out there, that we're spotting the plagues, and as the locusts emerge we're ready for when they band so that we can spray them."
This year more environmentally friendly pesticides that can be used in organic farming will be provided. There are planes ready to help with the spraying operation if required. A host of local associations and organizations are involved in coordinating the battle. The University of Sydney is also heavily involved in locust research to find new ways to tackle the pests.
Editor:Zhang Pengfei |Source: CNTV.CN