Watch Video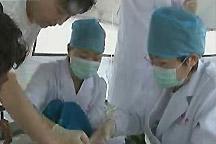 Play Video
China's rescue team's key emphasis in Pakistan is disease prevention. After days of giving medical treatment, the rescue team has confirmed that skin diseases and other infectious diseases are the biggest threat in disaster hit areas.
The Chinese rescue team has set up tents and a mobile hospital in Pakistan's worst flood-hit area, to provide medical services to flood victims.
The team is made up of experienced doctors and nurses, including gynecologists and pediatricians. They held a flag-rising ceremony Sunday morning at Thatta's police headquarters, marking the formal start of their humanitarian work in the country.
Outside the headquarters, crowds of local people, mostly women and children, thronged the gate waiting for medical treatment.
After days of providing treatment, the Chinese rescue team has confirmed that the biggest threat to flood victims is skin diseases caused by the moist heat.
Pakistan's Interior Minister Rehman Malik visited the mobile hospital in Thatta, commending China's relief efforts for flood victims.
Rehman Malik said, "We thank you for what you have done. Thank you very much."
China has provided a total of 120 million yuan worth of humanitarian supplies to Pakistan in three batches.
The month-long devastating floods in Pakistan have killed at least 1,600 people, affected over 20 million others and destroyed nine-hundred-thousand homes.
Related stories
Editor:Yang Jie |Source: CNTV.CN