Watch Video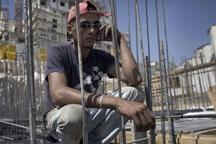 Play Video
Even before peace talks with the Palestinians begin, Israel's government is fiercely debating a key concession: whether or not, to extend a slowdown of West Bank settlement construction.
Israel's 10-month slowdown on construction of new homes in West Bank Jewish settlements will expire September 26th. The Palestinians announced if Israel renews building settlements they will withdraw from negotiations.
The talks are set to resume Thursday with a summit meeting in Washington after months of US mediation efforts.
Israeli Prime Minister Benjamin Netanyahu declared a 10-month partial freeze in settlement construction to boost prospects for talks, but negotiations are resuming just three weeks before the freeze expires.
Netanyahu hasn't pledged to renew it, facing stiff opposition from coalition partners in his government.
Silvan Shalom, Israeli Vice PM, said, "Unfortunately, only a few weeks before the decision that was taken in the inner cabinet to freeze the settlements is coming to an end they decided to take the decision to resume the negotiations. It doesn't mean Israel will accept their demand to continue with freezing the settlements. It's, in my view it is unacceptable to most of the Israeli ministers."
The Palestinians demand a complete freeze of settlement activity ahead of the talks.
The roughly 120 Jewish settlements that dot the West Bank have long been a sore point in Mideast peacemaking.
The issue is highly contentious in Israeli society, with settlers demanding the renewal of building in the settlements and left-wingers saying the issue will sabotage the forthcoming talks.
Josh Adler, Settler of Effort, said, "The settlements are not the obstacle to peace. The Palestinians are the obstacle to peace. Settlements promote co-existence and peaceful relations."
Daniel Ben Simon, Left-Writer, said, "For the Prime Minister it's a moment of truth. He has to decide next month either he carries on with the settlements or he makes peace. He cannot win them both, he cannot dance on both parties."
Israel captured the West Bank, Gaza and east Jerusalem in the 1967 Mideast War.
Since then, about 300-thousand Israelis settled in the West Bank and another 200-thousand in east Jerusalem, annexed by Israel after the war.
Editor:Zhang Pengfei |Source: CNTV.CN