Watch Video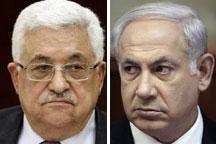 Play Video
The US is relaunching Israeli-Palestinian talks this week, the third push over the past decade to solve one of the world's most intractable conflicts.
Both Israeli Prime Minister Benjamin Netanyahu and the Palestinian Liberation Organization Mission, to the US commented on the peace prospects Monday, three days before negotiations begin in Washington.
The aim, of the talks is to forge a peace deal within 12 months. Netanyahu says a final peace agreement with the Palestinians is reachable.
Benjamin Netanyahu, Israeli Prime Minister, said, "I am not naive. I see all the difficulties and hurdles and despite this I believe that a final peace agreement is a reachable objective. Of course this does not depend just on us. There are two sides to this discussion. But I on my part want to give it all the time and effort needed and that is why I am leaving for Washington."
Maen Areikat, Chief of PLO Mission to the US, said, "I think this is the most important source of hope. Again, if we allow for one party or more than one party to exploit these negotiations for tactical ploys for buying time, delaying, trying to delay the inevitable, which is the establishment of a Palestinian state and the end of the Israeli military occupation, then we, unfortunately, will see more tension in the region."
Editor:Zhang Pengfei |Source: CNTV.CN