Watch Video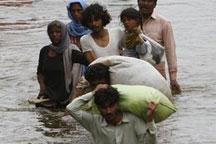 Play Video
Thousands are streaming back to the historic city of Thatta in southern Pakistan after authorities managed to hold off floodwaters, that threatened to inundate it. But displaced people in nearby towns are still in dire need of food and water as Liu Yue explains.
Water levels are beginning to drop in Sindh province.
Authorities are struggling to save Thatta, building new levees with clay and stone across a major road to hold back floodwaters.
Most of Thatta's 350-thousand residents fled to avoid the floods. They are beginning to return to the city.
Akhtar Hussain, Shop Keeper, said, "Nothing happened in the city, when people feel there is no more danger, that the situation is under control and there is no more flooding. You will see happiness on their faces."
But thousands from neighboring towns are not so lucky.
Their houses were damaged.
They complain about the shortage of food and water at displacement camps.
Jan Khamiso, Flood Victim, said, "We don't have food and clean drinking water here, the government hasn't provided us with any relief, so we are surviving from our own resources."
Authorities say they are trying to provide food and shelter to the hundreds of thousands of people in camps.
But as in other areas of the country, the scale of the disaster overwhelmed both local capacity and international partners who stepped in to help.
Editor:Zhang Pengfei |Source: CNTV.CN