Watch Video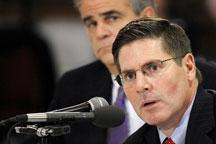 Play Video
BP is refusing to comment on a report that the company's own investigation, blames employees for failing to the spot danger signs, before the disastrous blowout of its oil well in the Gulf of Mexico.
To investigate the causes of the deadly explosion of the Deepwater Horizon rig in April, BP established an internal team, which is expected to release a report in the next few weeks.
Bloomberg News says, that part of the report, shows that the rig's pressure monitoring system, detected abnormal pressure hours before the accident and gave warning signals.
However, it says BP employees misread the data, missing the chance to stop the blast. BP spokesman Mark Salt, says the company hasn't yet received the report and so cannot comment.
Related stories
Editor:Zhang Pengfei |Source: CNTV.CN