Watch Video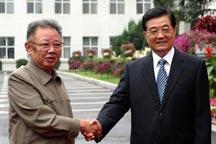 Play Video
The Democratic People's Republic of Korea's leader, Kim Jong-il, paid an unofficial visit to China. He met with top Chinese leaders, and discussed bilateral as well as regional issues.
President Hu Jintao who is also the General Secretary of the central committee of the Communist Party of China held talks with the leader of the Democratic People's Republic of Korea, Kim Jong Il.
They met in Changchun, the capital city of Northeast China's Jilin Province last Friday.
During the meeting, Hu Jintao expressed a warm welcome to Kim on behalf of the CPC, Chinese government and its people.
He expressed gratitude for the condolences from the DPRK to landslide-hit Zhouqu in northwest China's Gansu province.
Hu also expressed sympathy to the DPRK and its people after a flood hit the country.
Hu Jintao says the traditional friendship between China and the DPRK is the common goals of the two governments, parties and people. It is the historical responsibility of the two sides to push forward their friendship with the progress of the times and from generation to generation.
Strengthening Sino-DPRK relations is the consistent policy of the CPC and the Chinese government.
Hu says China always handles, maintains and pushes forward relations with the DPRK in a strategic and long-term perspective, and will make joint efforts with the DPRK to upgrade the relationship to benefit the two and contribute to lasting regional peace and common prosperity.
Hu put forward four proposals to strengthen ties with the DPRK, including to maintain high-level contacts, to deepen economic and trade cooperation, to reinforce strategic coordination and to strengthen communication in international and regional affairs.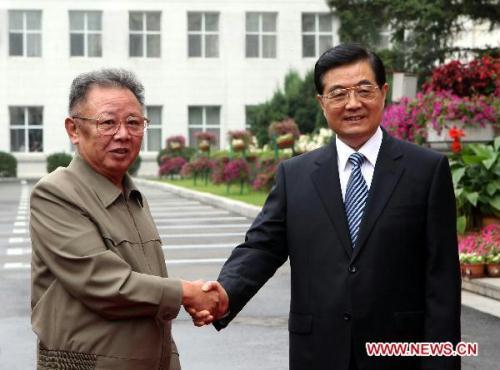 Chinese President Hu Jintao (R) meets with Kim Jong Il, top leader of the
Democratic People's Republic of Korea (DPRK), in Changchun, capital of northeast
China's Jilin Province, Aug. 27, 2010. (Xinhua/Ju Peng)