Watch Video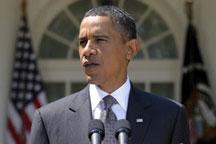 Play Video
US President Barack Obama says his economic team has discussed additional steps to get the economy moving, and he's again urging Congress, to pass a bill that aims to boost credit supply to small businesses and spur jobs growth.
In a brief statement at the White House, Obama, who is facing low approval ratings on the economy, said he and his team are working hard to find new ways to promote economic growth and create jobs, and increase the competitiveness of the US economy in the long term.
Barack Obama, US President, said, "Steps like extending tax cuts for the middle class that are set to expire this year, redoubling our investment in clean energy and rebuilding more of our infrastructure for the future and further tax cuts that encourage businesses to put their capital to work creating jobs here in the United States."
Obama also called on Senate Republicans to stop blocking the small business jobs bill. The legislation provides thirty billion dollars to small banks and aims to boost lending to small businesses. It also contains tax cuts and an exemption from capital gains taxes for small businesses that qualify.
Obama is under strong election-year pressure to increase job growth after an 814 billion US dollar stimulus plan he and his Democrats pushed through Congress in February 2009 has made no appreciable reduction in the jobless rate.
Editor:Zhang Pengfei |Source: CNTV.CN