Watch Video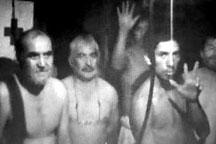 Play Video
A new video of 33 trapped Chilean miners has been released. It shows them sending greetings to their families and talking about how they're doing better since receiving food.
Most of the workers are still upbeat, but when speaking about their wives and children, many broke down.
Renan Avalos, Trapped Miner, said, "I want to send a greeting to my wife, I love her a lot. And to my family, too."
Juan Carlos Aguilar, Trapped Miner, said, "I'm a bit tired, we have a shift last night, so you'll have to excuse my face. We are all good down here, the 33 of us."
The relatives are excited about the latest news.
Jesica Yanez, Wife of Trapped Miner, said, "I'm happy, happy to hear from him. He's good, in high spirits."
Many of the men have severe skin irritations from the hot, wet conditions underground.
Special clothing that dries quickly has been sent to them, and also small sleeping mats to protect them from the damp ground.
The Health Minister says mentally and emotionally, the miners have made important progress.
Jaime Manalich, Health Minister, said, "There is joy, jokes, laughter. They got themselves very well structured in work teams down in the mine."
But it will be some time before the miners finally see daylight.
The chief engineer in charge of drilling says the men will have to help out by clearing thousands of tons of rock that will fall as a rescue hole is drilled.
Mining Minister Laurence Golborne repeated the government's estimate of a three-to-four month rescue operation, rejecting local reports citing engineers who said it could be done in much less time.
Editor:Zhang Pengfei |Source: CNTV.CN