Watch Video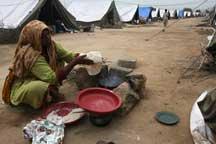 Play Video
The floodwaters in Pakistan that have been unrelenting over the past five weeks are finally receding and flowing into the Arabian Sea. But, the challenges of delivering emergency aid to eight million stranded victims remain.
The floods are continuing to move south from Pakistan's mountainous northwest. Almost 20 per cent of the country is still underwater.
Raging flood waters have destroyed bridges and roads and isolated the Swat Valley from the rest of Pakistan.
The delivery of aid has been hampered by damage to transport infrastructure.
After more than one month of flooding many bridges and roads remain unstable, unsafe and unusual.
Swat Valley villager Haji Mohammad Jan said, "The local people in the area are facing deep trouble due to this broken bridge so we decided to make an alternative route. We have been working day and night to make a chair lift with our own resources."
Pakistan's army says it's been working hard too, to fix bridges to allow relief workers and aid through.
Brigadier Saeedullah Khan from Pakistan Army said, "By the grace of all mighty with the engineers efforts and definitely the NHA (National Highway Authority) cooperation and all those the contractors, everybody, we worked day and night, and we have made it and today the light traffic will resume on this Chakdara bridge."
The Swat Valley is one of the worst-hit areas.
The floods have left 142 dead in Swat and hundreds of thousands without homes, food, electricity or clean water.
The UN warns that additional funding for emergency food is urgently needed to ensure supplies into next month.
Once all the flood waters recede, the country will be left with a massive relief and reconstruction effort that will cost billions of dollars and take years.
Editor:Zhang Ning |Source: CNTV