Watch Video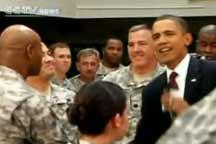 Play Video
President Barack Obama has visited a military base in Texas as the US combat mission in Iraq formally came to an end.
At the Fort Bliss army post, home to several units that fought in Iraq, Obama expressed his deep gratitude to the troops. He praised the excellence of their mission in Iraq, saying, his greatest pride is in being their commander-in-chief. The President said, Iraq now had the opportunity, to create a better future for itself, but noted there's still much work to be done and "a long road ahead." Despite the end of US mission in Iraq, Obama said, the US will continue the fight against Al Qaeda, the Taliban and their allies.
US President Barack Obama"We're still going to be going after terrorists in those areas and so our counter-terrorism operations are still going to be conducted jointly but the bottom-line is our combat phase is now over. We are in transition and that could not have been accomplished if not for the men and women in Fort Bliss and around the country."
Editor:Zhang Ning |Source: CNTV