Watch Video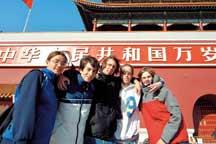 Play Video
While an increasing number of Chinese are going abroad for education, an unprecedented number of foreign students are coming to China to study. And they are not just here for the language.
CCTV reporter Wang Guan finds out, many international students in China are going through rigorous 2-year or 4-year programs studying for degrees in fields such as business, management and medicine.
Finally back from a long summer holiday, German student Maike Spiekermann is excited to be reunited with her teachers at the University of International Business and Economics.
A major in Business Administration, Maike hopes her China experience will not only make her bilingual and bi-cultural, but enable her to gain her business degree with excellence.
Maike Spiekermann, German, said, "Well, the world is opening to the east. Chinese is a languge you should know and China is a culture you should know."
Maike is among more than 2,000 international students at this university. While some are here for the first time, others have been around for quite for a while.
25 year old Abdol is winner of a Chinese government scholarship and a senior in international economics. Fluent in business Chinese after just 3 years' study, Abdol says with sincerity that much of the credit should go to his teachers.
Abdol Diop, Senegalese, said, "Before I couldn't really speak Chinese. Now I wouldn't say my Chinese is perfect but its okay for someone who learned Chinese for four years. So I would like to say "Wo Tuo Lao Shi De Fu".(I owe my achivements to my teacher")
Around Beijing and across China, more international students are pouring in.
Wang Guan, Repoprter, said, "Merely 15 years ago, only 40 thousand foreign students studied in China. Now the figure is a quarter of a million. The Ministry of Education estimates that by 2020, China will have the largest number of international students anywhere in Asia. "