Watch Video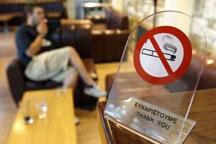 Play Video
Greeks have both welcomed and criticized a comprehensive countrywide ban on public smoking indoors in a country with some of the heaviest puffers in Europe.
The complete smoking ban is the second of its kind since a lesser ban in 2009, which was widely ignored.
The government says it will strictly enforce the new ban, showing leniency only in the beginning to allow the public and businesses to adjust.
Prof. Papagiotis Behrakis, Dir. Nat. C'ttee for Tobacco Control, said, "The necessity of this legislation is drawn from the truly poor record our country has concerning smoking. In other words, we are first in terms of the number of smokers on an international level. We are first in Europe for passive smoking, and we are first in terms of the annual cigarette consumption per person in Europe."
Non-smokers have hailed the ban, saying they have constantly suffered from passive smoke.
Thanasis P[andas, Ex-smoker, said, "I go to a restaurant to eat and the man next to me is blowing his cigar smoke as I eat, without any respect for me. Why? He should go find somewhere else if he wants to eat and smoke."
But smokers say it is not fair having no space to smoke at all.
Some businesses also complain about the measures since they will face financial difficulty by losing customers.
A group of 80 smoking bar owners have formed their own protest group with their employees and customers to defy the ban.
Opponents to the ban say they will gather every day at their favorite bars in protest, and continue to smoke, until changes are made to the law.
Editor:Zhang Pengfei |Source: CNTV.CN