Watch Video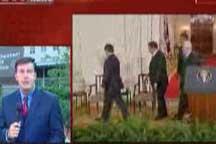 Play Video
In Washington, US President Barack Obama is hosting the first direct Israeli-Palestinian peace talks in two years. They come amid fresh violence on the West Bank and a persistent deadlock over Jewish settlements. Full Story>>
For more on the ongoing Mideast peace talks, let's hear from CCTV News correspondent Jeff Napshin in Washington, DC.
Q1. Obama had previously met with each leader individually to lay the final groundwork for negotiations. They also delivered statements to the press. How has the public responded to their comments?
Q2: Israeli and Palestinian leaders are expected to resume face-to-face talks in hours. What's the attitude of both sides? And what are the biggest challenges for this round of negotiations?
Q3: Hamas has attacked Israelis twice over the past two days, resulting in four deaths. This was before the talks even started. Will this affect what happens in Washington?
Editor:Zhang Ning |Source: CNTV