Watch Video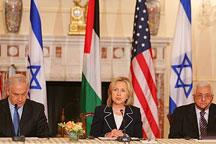 Play Video
Israeli Prime Minister Benjamin Netanyahu and Palestinian Authority President Mahmoud Abbas have ended the first direct Middle East peace talks in almost two years. The two leaders have agreed to make efforts to resolve all outstanding issues within a year, and are set to meet for the next round.
The two leaders, along with US Secretary of State Hillary Clinton ended the first round of talks in Washington, after about one and a half hours.
Netanyahu and Abbas agreed to make efforts to meet the one-year deadline set by the US government to resolve all final issues.
The US special MidEast envoy George Mitchell said after the talks, the two leaders are sincere in building peace.
George Mitchell said, "There has to be a sincerity and a seriousness of purpose combined with a realistic appraisal and understanding of the difficulties, but a determination to overcome them. I believe that exists. I believe these two leaders, President Abbas and Prime Minister Netanyahu, are committed to doing what it takes to achieve the right result."
Mitchell refused to discuss specifics of what the framework agreement would entail, but said it would lay out the "fundamental compromises" needed for a final settlement.
Thursday's negotiations were the first since the last effort broke down in December 2008.
The two leaders are to meet again on September 14th and 15th in the Middle East, likely at the Egyptian Red Sea resort of Sharm el-Sheik, with an eye toward forging the outline of a pact.
Editor:Zhang Ning |Source: CNTV.CN