Watch Video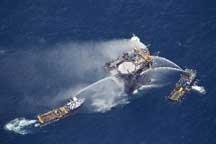 Play Video
Another oil rig has exploded in the Gulf of Mexico.
Thursday's blast happened west of the site of BP's massive spill which followed an explosion on its Deepwater Horizon rig. White House spokesman Robert Gibbs says all 13 people from the burning Mariner Energy oil and gas facility are accounted for. One has been injured and is being evacuated from the area.
Robert Gibbs, White House Press Secretary, said, "I am told this is a production platform about 100 miles off the coast. I am told the depth of water is about 340 feet, so this is not a deepwater facility. As I understand it, the well was not in active production. "
An offshore oil platform explodes in the Gulf of Mexico south of the Louisiana coast.
Fire engulfed the offshore platform and massive plumes of gray smoke billowed into
the sky. 13 workers from the offshore oil platform are forced to jump into the sea.
All13 crew membersare rescued, September 2, 2010.(Xinhua/AFP Photo)
Related stories