Watch Video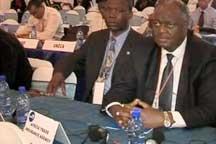 Play Video
Heads of State from 19 East and Southern African countries have been meeting in the Kingdom of Swaziland, to discuss ways of promoting trade and investment. It was the 14th gathering of COMESA - the Common Market for Eastern and Southern Africa. René Del Carme reports from Swaziland.
COMESA includes nations such as Libya, Kenya, the Democratic Republic of Congo, Zambia and Malawi, and covers a population of around 400-million people.
Its main aim is to promote trade between member states. And delegates at the Heads of State and Government say they believe they're on the right track.
Ministers and other high-level officials from many of these African countries say they will soon be travelling to China to attend a development meeting and to visit the Shanghai World Expo.
They told CCTV News that China is playing a significant role in improving the lives of people in their countries.
The COMESA Heads of State have agreed that they will keep working together towards their common goals...
Rene Del Carm, Lozithpa Palace, Swaziland, said, "Such as deepening economic integration...
And the expansion of trade, both regionally and globally.
Editor:Zheng Limin |Source: CNTV