Watch Video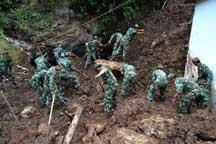 Play Video
Rescuers are continuing to search for survivors from a mudslide in southwest China's Yunnan Province that killed 15 people.
The mudslide hit Wama village in Baoshan city on Wednesday afternoon. So far, 23 people have been saved while 33 others remain missing. Wan Chunning has more.
Rescue efforts hit full swing on Thursday night, 20 hours after the disaster struck.
More than a thousand people have taken part in the rescue operation, with over 120 medical workers treating the injured and disinfecting the site.
Communication and power supplies were cut off by the disaster, forcing rescue crews to work through the night using flash lights.
He Chang, PLA Officer, said, "The biggest difficulty is the bad weather and lack of proper machinery and tools."
Despite the continuous rain and danger of another mudslide, rescuers stressed they wouldn't give up.
Rescuers lifted the victims to safety where they received treatment and relief supplies at an emergency shelter.
Meanwhile, villagers saved also offer their help to the rescuers and other victims.
At a temporary relief shelter, villagers prepared food for soldiers and people displaced by the mudslide.
This young girl's mother was injured during the disaster. Since arriving at the relief shelter, she has been provided with food and clothes.
Medical workers were also at the side to treat the injured.
Related stories
Editor:Zhang Pengfei |Source: CNTV.CN