Watch Video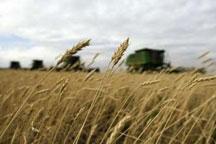 Play Video
It's being called the biggest price increase in decades. Russia's decision to ban grain exports has caused a huge rise in world wheat prices. But despite extra stores of grain -- many U-S farmers are not celebrating.
Despite record yields -- and the export of more than 30-million metric tons of grain this year -- the President of US Wheat is worried.
Alan Tracy, US Wheat President, said, "We've never had this big a price swing.."
Alan Tracy says he'd have to go back decades to find anything like this.
Alan Tracy, said, "To go up by more than 50% in one month is unprecedented. These prices are really volatile."
Back in June -- American wheat averaged about $4 a bushel. But just two months later -- it skyrocketed up to $8.50 a bushel. The reason: Russia's decision to stop selling wheat in order to prevent a domestic shortage.
"The U-S is concerned about Russia's decision to ban grain exports. The country was supposed to sell 15-million metric tons this year--instead they've sold just 3-million tons."
Edward Allen, USDA Economist, said, "They had very bad rainfall in the Volga area and the spring wheat was devastated by dryness followed by extreme heat."
Analysts with the United States Department of Agriculture say the decision will mean a big boost for U-S farmers as they get more money for their wheat. But some experts are worried because there could be an unpredictable downside.
Alan Tracy, US Wheat President, said, "These higher prices will encourage more wheat and shifts to wheat from corn in the US. More planting all over the world."
That could lead to overproduction and falling prices next year. Russia's ban also changed the market's psychology -- leading suppliers to purchase extra grain as a precaution -- affecting the price.
While that will also increase bread prices in the U-S.. it's only expected to be a few cents per loaf. Experts say the bigger question is how it'll affect other parts of the world, like the Middle East, which get most of their grain from Russia.
Charlotte Hebebrand, Int's Food & AG. Trade Policy Council, said, "My concern is for the poor in developing countries where people can spend up to 70% of their income on food so these price increases are very difficult."
In the past that led to food riots -- although a large world supply of grain should prevent that from happening this time.
Meanwhile, farmers around the world are about to start planting their winter wheat. If the rains return to Russia -- experts say the country's grain supply could be back to normal by next year.
But if the drought continues -- it could mean even more uncertainty -- and that's something farmers everywhere don't like.
Editor:Zhang Pengfei |Source: CNTV.CN