Watch Video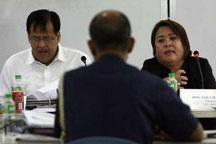 Play Video
The Philippine government has formed a task force to investigate last month's hostage incident in Manila. The formal inquiry into the incident aims to uncover the truth behind the incident that killed eight Hong Kong tourists.
Philippine National Police Chief Director Jesus Verzosa and the ground commander of the rescue attempt, Rodolfo Magtibay, testified on the incident.
During the inquiry, a senior official said the objective was to exhaust the gunman through negotiations in a bid to save all the hostages.
Leila De Lima, Philippine Justice Secretary, said, "We want to know, on August 23, when was it determined and who made the determination that the negotiations failed?"
Jesus Verzosa, Director-General, Philippines National Police, said, "It is the ground commander your honor, according to protocol it is he who decides if negotiations have failed and that intervention should be undertaken."
The investigation committee plans to inspect the bus and conduct a re-enactment of the incident next Monday. Many people in Hong Kong have been outraged that Manila police bungled negotiations with the hostage-taker, as well as the rescue operation.
Philippine President Benigno Aquino took the responsibility for the fiasco in a televised address. His spokesman said the move aims to emphasize the principle of accountability to bring about institutional reforms in the police force and other government agencies.
Related stories
Editor:Zhang Pengfei |Source: CNTV.CN