Watch Video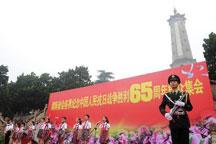 Play Video
Top Chinese have leaders paid homage to the nation's soldiers who died fighting Japanese aggression during the second World War. Friday's events marked the 65th anniversary of the Japan's surrender.
At the Museum of the War of the Chinese People's Resistance Against Japanese Aggression in Beijing, Chinese President Hu Jintao, top legislator Wu Bangguo, Premier Wen Jiabao, and other members of the Standing Committee of the Political Bureau of the Communist Party of China Central Committee presented bouquets to honor the war martyrs.
Addressing the event, President Hu Jintao highlighted the great historical significance of the War of Resistance against Japan. He urged all Chinese people to invigorate the national spirit with patriotism at the core, and strive to develop China into a prosperous country.
Also on Friday, a seminar to commemorate the 65th anniversary of the victory over Japan was held in Beijing. Li Changchun, a member of the Standing Committee of the Political Bureau of the CPC Central Committee, attended the seminar and addressed the audience.
He said the victory promoted the unity of the Chinese nation, and carried forward its great spirit. Li stressed that China should stick to a scientific development outlook in guiding its overall economic and social development.
Related stories