Watch Video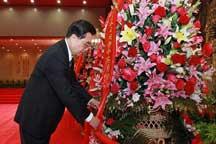 Play Video
With Friday marking the 65th anniversary of Japan's surrender that officially ended World War Two, Chinese leaders have paid homage to the soldiers who died fighting the Japanese aggression during World War Two.
At the Museum of the War of Resistance Against Japanese Aggression in Beijing, President Hu Jintao, top legislator Wu Bangguo, Premier Wen Jiabao, and other senior Chinese officials, presented bouquets to honor the war martyrs.
Addressing the memorial, President Hu Jintao highlighted the historic significance of the War of Resistance Against Japanese Aggression.
He said patriotism, one of the main essences of the war, is a major component of China's national spirit. Veterans, foreigners who contributed to the victory, and other citizens also mourned the martyrs with a silent tribute.
More than 40 million Chinese people lost their lives safeguarding their homes during Japan's 14 years of aggression. It was not until 1945 that Japan surrendered, and the Allies declared victory.
Related stories