Watch Video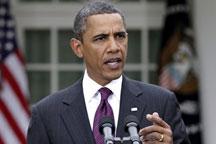 Play Video
US president Barack Obama has announced his administration will launch new measures to stimulate the economic recovery. The new measures will focus on stimulating job growth and improve the country's employment.
U.S. President Barack Obama says that the economy is moving in the right direction but not quickly enough, and that he will offer new measures next week to help stimulate job growth.
Barack Obama, U.S. President, said, "The key point I am making right now is that the economy is moving in a positive direction. Jobs are being created -- they are just not being created as fast as they need to, given the big hole experienced. And we are going to have to continue to work with Republicans and Democrats to come up with ideas to accelerate that job growth."
Obama's remarks come on the same day that the August employment report showed far less jobs were lost than expected.
Barack Obama, U.S. President, said, "That's positive news and it reflects the steps we have already taken to break the back of this recession but it is not nearly good enough. That's why we need to take further steps to create jobs and keep the economy growing including extending tax cuts for the middle class and investing in our economy where the potential for job growth is greatest."
The jobs report however is likely to do little to take the political heat off Obama's handling of the U.S. economy ahead of mid-term congressional elections in November.
Related stories
Editor:Zhang Pengfei |Source: CNTV.CN