Watch Video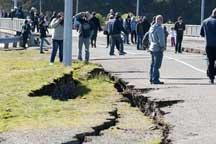 Play Video
A powerful 7.4-magnitude earthquake has struck much of New Zealand's South Island. The early Saturday quake caused widespread damage in Christchurch, but there were just two reports of serious injuries.
The quake hit New Zealand at 4:35 a.m, and was centered at 30 kilometers west of the southern city of Christchurch. It shook a wide area, and some residents said buildings had collapsed and power was cut off.
Christchurch Resident, said, "The whole building felt as if it was actually going to fall over sideways and it was shaking back and forward as if it had been hit by something."
Christchurch Resident, said, "Oh my gosh. Well, that shake lasted probably over a minute. We've got no power, We've got no water."
Christchurch Resident, said, "We were so scared it was terrible."
"We had mirrors fall down, dressers fall down, painting fell down. The lights were just going nuts.
Many residents fled the seafront areas out of fear of tsunamis, although no tsunami alert was issued. Others are reported to be trapped in damaged buildings.
There is considerable damage in the central part of the city. Chimneys and walls fell from older buildings, roads were blocked, traffic lights went out, and power, gas and water supplies were disrupted.
John Hamilton, Civil Defence Director, said, "Well, the magnitude was 7.4 and reports are coming in which illustrate quite significant ground movement in some of the older buildings, particularly those of brick construction it would appear have suffered significant damage."
Christchurch Hospital has treated two men with serious injuries and a number of people with minor injuries.
Christchurch International Airport was closed after the quake as a precaution, as experts prepared to check the runways and terminal buildings.
New Zealand sits above an area of the Earth's crust where two tectonic plates collide. The country records more than 14,000 earthquakes a year - but only about 150 are felt by residents. Fewer than 10 a year do any damage.
Related stories