Watch Video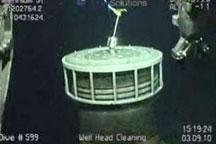 Play Video
Energy giant BP says it has removed a failed blowout preventer from atop its ruptured oil well in the Gulf of Mexico.
The device is slowly being lifted to the surface and isn't likely to reach the top until sometime Saturday.
Earlier in the day, a vessel had latched onto the equipment to raise it from 1.6 kilometers beneath the sea. The blowout preventer is considered to be a key piece of evidence in the spill investigation.
Investigators hope to gain insight into why the device failed to prevent the spill. BP will replace the failed blowout preventer with a working one and then resume drilling a relief well to plug the leak for good.
Related stories