Watch Video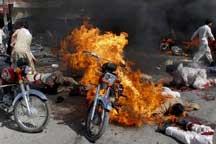 Play Video
At least 73 people were killed and over 160 others injured when a suicide bomb blast hit Pakistan's southwest city of Quetta. The local radical group Lashkar-e-Jhangvi has claimed responsibility for Friday's attack.
Police in Quetta say a 22-year-old man carrying an estimated 15 kilograms of explosives, blew himself up among a crowd of people who were rallying in support of the Palestinians.
The rally drew an estimated 2,500 participants, mainly Shiite Muslims.
Witnesses say the blast sent panic throughout the crowd, creating a severe stampede.
Pakistan's prime minister Syed Yousuf Gilani strongly condemned the attack and ordered an immediate investigation into the incident.
Meanwhile, a local Shiite organization announced a 40-day period of mourning in Quetta.
The banned Sunni radical group Lashkar-e-Jhangvi later claimed responsibility for the attack.
The group had earlier claimed responsibility for two suicide bombing attacks on a Shiite mourning procession in Lahore, on Wednesday night. The blasts killed 37 people and injured over 200 others.
A spokesman for the group said that the attacks were in revenge for the killing of their leaders by Shiite Muslims and threatened more attacks against Shiites.
Related stories