Watch Video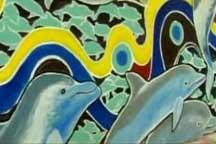 Play Video
A Philippine artist named, A.G. Sano, is making efforts to stop the annual dolphin hunt in Taiji, Japan. He said he is hoping his paint, brushes and the power of persuasion will help stop the practice.
A. G. Sano is on a mission to stop the annual dolphin slaughter in Taiji, Japan.Sano says he was moved by the Oscar-winning documentary "The Cove", which graphically depicts the organised capture and killing of dolphins.
A.G. Sano,, Visual Artist, said, "They gather as much dolphins as they can from the cove, from the migratory roots. And they choose the good looking dolphins for the dolphin shows. And then the rest of the dolphins that they gather, that they're not able to use for the shows, they slaughter them."
As an artist, Sano decided the best way to draw attention to the dolphins' plight was to draw them - as murals all over the Philippines.
So far, he has painted more than 5,000 of his targeted 23,000 dolphins, the number allegedly killed each year in Taiji.
And the word about Sano's campaign has spread.
Schools have invited him to grace their walls with dolphin murals and the artist recently visited the Philippine town of Baclayon which is home to dolphins, coral reefs and a rich variety of marine life.
Sano has photographed the aquatic mammals for 11 years and the message behind his murals is simple.
A.G. Sano,, Visual Artist, said, "Please stop going to dolphin shows. Stop going to dolphinariums, because it fuels the dolphin drives in Taiji, it fuels the slaughter basically."
Involving and educating the youth, says Sano, is also essential and he hopes to complete his project before the next hunting season starts in Taiji.
The Philippine archipelago of 7,000 plus islands boasts one of the most diverse ecosystems in the world -- compelling grounds says the artist, to ensure the slaughter of dolphins doesn't spread to his country.
Editor:Zhang Pengfei |Source: CNTV.CN