Watch Video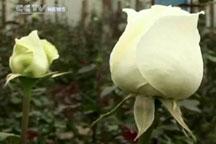 Play Video
Ecuador has long been a major exporter of big-bulbed, colorful flowers, a must-have for any romantic gift. Now Ecuadorian farmers are exploring a new idea -- roses that you can eat.
What was once for the eyes and nose, are now also for the stomach.
From New York to Barcelona, restaurants have started to serve food containing organic rose petals.
With nutritional benefits such as calcium and vitamin C, the beautiful and fragrant roses are made into delicious rose petal dishes, deserts and even rose martinis.
These flowers are grown on farms in Ecuador's Andean highlands, and now they are becoming a favorite among diners.
Maria Jose Torres, Student, said, "I've never tasted something like this before. It was great. It was strong but sweet at the same time. And you can definitely feel the rose scent."
In these fertile valleys of Ecuador's Pujili region, Roberto Nevado started growing organic roses four years ago as part of the "going green" trend in business.
With high altitudes and its position on the equator, the area provides the intense sunlight needed to grow the best roses. His farms, located at about 2,800 meters above sea level, have 500 employees and ship 20 million stems a year.
Roberto nevado, Rose Farm Owner, said, "Until now it's an investment. It's not a profitable thing, but it's an investment. We think there might be a future in that."
Edible roses account for only about one percent of Ecuador's flower exports. Overall, Ecuador exported about 600 million US dollars worth of flowers last year. The industry has been growing by 13 percent annually and accounts for 2 percent of the country's gross domestic product.
Editor:Zhang Pengfei |Source: CNTV.CN