Watch Video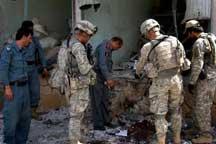 Play Video
Two suicide bombings in Afghanistan have killed several people. With no initial signs of a connection, Saturday's bombings came on the first anniversary of a NATO air strike on two fuel trucks just outside Kunduz city that killed more than 140 people.
A suicide bomber perched on the back of a motorcycle killed seven people, including four Afghan policemen, in the increasingly violent northern province of Kunduz.
Sixteen other people were injured in the attack in the provincial capital.
Later Saturday, a suicide car bomb targeting a NATO convoy exploded in the insurgent hotbed of Kandahar.
NATO said there were no injuries to coalition forces or damage to their vehicles.
At least three civilians were killed and 11 wounded.
An eyewitness said, "We were standing near here when a vehicle came and hit the American convoy. We saw the flames in the air and smoke and then more American forces arrived here and did not allow people near the site."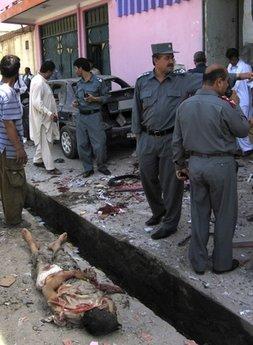 Afghan policemen examine the scene of a suicide
attack in Kunduz, north of Kabul, Afghanistan,
Saturday, Sept. 4, 2010. A suicide bomber perched
on the back of a motorcycle killed five Afghan
policemen and one civilian in the increasingly
violent northern province of Kunduz.
(AP Photo/Javid Kargar)