Watch Video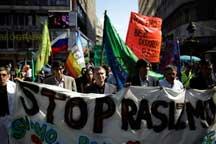 Play Video
Thousands of people marched in cities across Europe to protest against the deportation of the Roma, commonly known as "Gypsies", from France. Demonstrators also protested against other new security measures adopted by the French government.
A show of force against a crackdown.
Protesters flooded Paris, creating the largest demonstration among the 135 cities and towns across France and elsewhere in Europe, to be hit with unrest.
Human rights and anti-racism groups, labor unions and leftist political parties took part in the protests.
They are accusing French President Nicolas Sarkozy of stigmatizing minority groups like the Roma and seeking political gain with a security crackdown.
The latest moves by Sarkozy came after violence between police and youth in a suburban Grenoble housing project, and clashes in other communities.
Sarkozy also announced that naturalized citizens who threaten the lives of police officers should lose their citizenship, which has been slammed by his leftist critics as anti-constitutional.
Jean-Paul Dubois, president of Human Rights League of France, said, "Mr Sarkozy is there to stand for the Constitution, not to trample it. So we consider this situation extremely dangerous, that's why we are here."
Yanko Rouda, French citizen , ethnic Roma, said, "I feel insulted as a Frenchman and as a Roma of course."
Similar demonstrations also took place elsewhere in Europe, including Italy, Belgium and Serbia.
There are about twelve million Romas who live in the 27 Eurozone countries. Most live in eastern Europe and the Balkans, where they suffer from widespread poverty and discrimination.
France's recent and highly publicized crackdown has drawn criticism from the United Nations and the Vatican, among other institutions.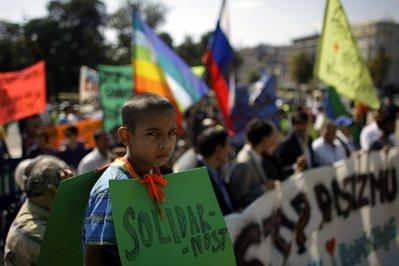 A Roma boy holds a banner reading 'Solidarity' in Serbian Latin
letters during a protest in Belgrade, Serbia, Saturday, Sept. 4, 2010.
Dozens of Roma held a protest march in support for the Roma in France
in central Belgrade on Saturday. The protesters chanted anti-racist
slogans and held banners calling for an end to expulsions of Roma in
France.(AP Photo/Marko Drobnjakovic)
Editor:Zhang Ning |Source: CNTV