Watch Video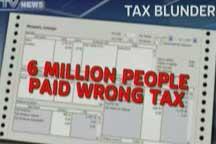 Play Video
British tax collectors say a new computer system has revealed that almost 6 million people have paid the incorrect amount of income tax.
HM Revenue and Customs says a total of 2 billion pounds has been underpaid over the past two years. The revelation means 1.4 million taxpayers will have to fork out an average of about 1,500 pounds each. But on the other side, 4.3 million people who paid too much tax, are set to enjoy an average rebate of more than 400 pounds. The money will be collected or refunded through taxpayer codes for 2011-12.
Tax advisers say people who receive the tax demands should seek advice, because they may not have to pay if they can prove the mistake was not their fault.
Editor:Zhang Ning |Source: CNTV