Watch Video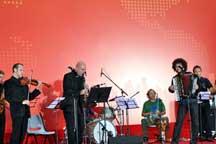 Play Video
Saturday marks the National Pavilion Day of Slovakia at the Shanghai World Expo. The country is rich in folk cultural traditions, and splendid natural scenery. Today we step into the nation's Pavilion to discover more about the beauty and grace of Slovakia.
There aren't many better ways to entertain expo spectators than traditional song and dance performances by noted folk artists from Slovakia.
And to spice things up, a Slovak singer also belted out a pop tune to warm applause.
The Slovakia Pavilion accentuates the theme of The World of Humanity. Located within zone 'C' of the expo site, the Slovakia Pavilion showcases the transformation of humans in a perspective of squares.
Visitors are guided on a journey transcending the restraints of time to discover the important historical moments of Slovakia and the lifestyle of people in the country with the aid of multi-media exhibitions.
Small in terms of geographical area with a total of less than 50-thousand square kilometers, Slovakia features a wide variety of natural landscapes and wealthy tourist destinations.
The culture of Slovakia is deeply influenced by the Celtics, Romans, Hungarians and Germans, resulting in a coherent fusion.
Slovakia is internationally known for its many well preserved medieval castles, that come in various shapes and sizes. Around 180 castles are officially registered on the protection list of the country's cultural and architectural heritage. Many made it onto the UNESCO World Cultural Heritage list.
One that stands out is the Bojnice Castle. It hosts the single most popular museum in Slovakia. The castle has made numerous appearances in big screen productions, and is the favorite place of love birds to exchange their vows and get hitched.
Editor:Zhang Ning |Source: CNTV