Watch Video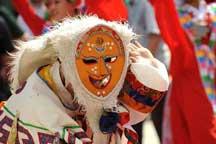 Play Video
Tibetan culture and art is being showcased at the Shanghai World Expo, with the beginning of "Tibet Week". Under the theme of "Heaven in Tibet," the festival includes performances of traditional songs and dances, some of which are recognized as Tibetan intangible heritage.
Reporter Li Zhen said, "What you are watching now is the famous King Gesar. It is a heroic epic created by China's Tibetans. King Gesar has been passed down through generations in a combination of songs and stories for more than 1,000 years. It has been selected into the United Nations Humanity Nonmaterial cultural heritage."
As well as King Gesar, another 13 examples of Tibetan cultural heritage are being presented at the Expo, including Opera, folk dance, Thangka drawing performances, attracting tourists from all over the world.
American tourist Michael said, "There are many colors. And I didn't realize that there are hundreds of different colors that were used in the pictures of Buddah. As I look at some of the pavilions, I could see that they tend to modernize, and be very modern and hi-tech. But here is clearly a tradition to protect the heritage of the people."
French tourist Sebastien said, "I guess they kept their culture in a very traditional way. That's what really interesting to see as well. And that's one part that interests us as tourists."
German tourist Simone said, "I will hope they try to keep as much as the traditions, because they are really something special."
Tibet is actually stepping up its efforts to protect its intangible cultural heritage later this year by drawing up a list of projects that need protection and building more cultural infrastructure.
Gesar King performer Marde said, "We get lots of support from the government. They set up a bureau and provide us with a special budget to preserve the traditional arts like Gesar King. I feel confident about our future."
The Central Government and the Tibet Autonomous Regional Government together have spent 240 million yuan protecting the intangible cultural heritage at regional and national levels. All their efforts have helped pass on these spiritual treasures.
Editor:Zhang Ning |Source: CNTV