Watch Video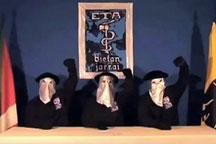 Play Video
Spain's armed Basque separatist group, ETA, has declared a ceasefire in a publicly released video on Sunday. They suggested, they might turn to a political process in its quest for independence.
The ETA has been under pressure recently, with leading members of the group have been arrested. There have also been growing calls from Basque political parties to declare a ceasefire.
ETA Member, Basque Region, said, "ETA makes it known that from some months ago it took the decision to no longer employ offensive armed actions. ETA repeats the call to politicians, unions and social leaders to act with responsibility. It is necessary that we gave a chance for our people to talk because only when the rights of the Basque people are recognized and guaranteed, the door of a true solution to the conflict will open."
The Spanish government has previously said it will only negotiate with the ETA if it denounces violence.
The group has called two ceasefires in the past, but abandoned them both. Now, it's unclear whether the ETA is declaring a permanent or temporary ceasefire.
The statement has received a mixed response from people in the city of Bilbao, located in the heart of the volatile Spanish state.
Local Resident, said, "I don't think that it will last to the end, because they always claim a ceasefire when it suits them, and then they ask for something, and when it's not given they go back and take up arms again. I don't think that it's going to last for long."
Local Resident, said, "I hope, once and for all, that we have peace and calm. At the end, the world is for all human beings, and we should not be divided. I think it will happen. I hope."
Formed in 1959, the ETA seeks the establishment of an independent Basque state in the region straddling the Spanish-French border.
Over the past four decades, assassinations, kidnappings, and explosions carried out by the ETA have claimed the lives of nearly one-thousand people.
Declaration:
LONDON, Sept. 5 (Xinhua) -- Spain's armed Basque separatist group ETA said it will not "carry out armed actions" in its campaign for independence, the BBC reported on Sunday... <
Full story
>
Reaction:
MADRID, Sept. 5 (Xinhua) -- The announcement of a truce by Basque separatist group ETA on Sunday was received with calm by the various sectors of Spanish society... <
Full story
>
Analysis:
MADRID, Sept. 5 (Xinhua) -- The ETA announcement of a ceasefire on Sunday didn't come as a big surprise as the radical Basque separatist group has been weakened by consistent government crackdown in recent years and is facing calls for ceasefire within the group... <
Full story
>
Editor:Zhang Pengfei |Source: CNTV.CN