Watch Video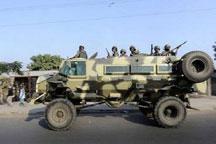 Play Video
Calm has been restored in Mozambique, after violent protests erupted in and around the African nation's capital, Maputo, over past week.
The unrest, sparked by a sharp rise in food prices, resulted in a temporary shutdown of the main airport and businesses, as well as a shortage of fuel. Adolf Spangenberg takes us for a firsthand look.
The capital, Maputo, is abuzz with people trying to purchase goods they have not been able to buy over the past week, due to the violent protests. Police, assisted by the military, have been deployed throughout the capital and surrounding towns, to protect against further damage to property and businesses in the region.
To date there are seven confirmed deaths, and more than 300 people injured during the riots.
Local business owners are concerned that continued action will cause irreparable damage to the economy.
Carlos Lema, Business Owner, said, "I am worry because they come here and break everything. I know it's not a big problem for government, because government is try to fight the poverty. But the strikes are allowed. They must show government in the strikes, but not like this, not like try to break. That is not a strike. That is nothing."
The rioting was instigated by anonymous text messages distributed throughout the country on Wednesday morning. According to Mozambicans on the street, they are not sure who had been calling for action against the government.
Nino Carvhalo, Maputo Resident, said, "No, we don't know who is sending, we see the SMS but we don't know the SMS from where I think so because the government still not solve that thing."
After the first few days of rioting, Mozambicans now find themselves queuing at bakeries for their daily bread, but fear that the overall increase in cost of living is simply not sustainable in a country where jobs are hard to come by, and the minimum wage is under three dollars a day.
Nino Carvhalo, Maputo Resident, said, "The people here in Mozambique want the price down. The government must put the price down, because the money we get at the job is nothing."
"It appears life has returned to normal in the capital of Mozambique, Maputo. This despite an increased call to put more pressure on government in days to come. Adolf Spangenberg, CCTV, Mozambique."
Editor:Zhang Pengfei |Source: CNTV.CN