Watch Video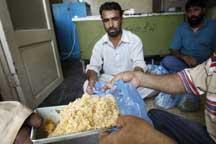 Play Video
It's been one month since floodwaters inundated Pakistan. One-fifth of the country was swamped, leaving 8 million people dependent upon aid. But in the town of Sukur, a group of volunteers have set up a relief camp to help the homeless.
The tents are intended to be temporary, but for those who lost their property in the Pakistan floods, they seem like a permanent home.
This relief camp in the southern province of Sindh was established by teachers and students from the Institute of Business Administration.
It has been in operation for nearly two weeks. Roughly 900 people are now living at the site.
Malik Farooq Awan, Educator, said, "One of my friends and alumni from IBA called me, and said we can't be just mere spectators. We need to contribute to the society, and we need to do something. So, it's that how we got started, and we took very baby step to help these victims."
In addition to providing roofs over the heads of survivors, volunteers are also offering cooked meals and clean water. Four doctors have made themselves available as well.
The group is even setting up a school, which is scheduled to open in a couple of days.
Malik Farooq Awan, Educator, said, "It has turned into a giant leap, and we are providing good facilities, basic facilities for them. Not just food, shelter, but we are looking forward to provide them good education."
For the homeless, the tents are the light at the end of the tunnel.
Punal, Flood Survivor, said, "At that time, we had nothing, and we were hungry. Then we wandered until we reached this place. They gave us food, water, and ice. We hadn't thought of this. We were afraid we would die of hunger."
The International Organization for Migration estimates that 80 percent of the flood survivors in Sindh Province have been displaced.
This is a huge population which needs special attention and extensive assistance.
Related stories
Editor:Zhang Pengfei |Source: CNTV.CN