Watch Video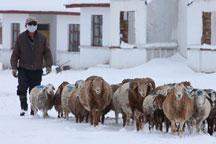 Play Video
The start of winter might be several months away, but northwest China's Xinjiang Uygur Autonomous Region has already experienced its first early snowfall of the year, with up to 10 centimeters falling across the region.
It blanketed parts of the 303 Regional Highway in the city of Hami, stranding many vehicles. The thoroughfare was temporarily closed to allow ploughs in to clear the road. The region's agricultural industry has also been affected, with 46-thousand hectares of wheat crops damaged by the snow.
The weather bureau says a cold front is forecast to sweep across northern China, causing temperatures to drop by up to 8 degrees Celsius. Temperatures, in areas like Inner Mongolia and Heilongjiang could drop by up to 10 degrees. Heavy rain has been forecast in Sichuan, Henan, and Shandong provinces.
A herdsman herds sheep in snow in Baishitou Town of Hami, northwest China's
Xinjiang Uygur Autonomous Region, on Sept. 4, 2010. Rain and snow hit Barkol
Grassland located in north Hami on Saturday.(Xinhua/Zhu Zhenghua)