Watch Video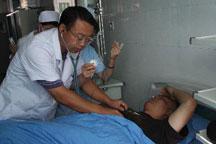 Play Video
Three scientists who suffered altitude sickness after being stranded for two days in the Kunlun mountains of northwest China are reported to be in stable condition.
On Friday, a team of 30 scientists was stranded more than 48-hundred meters above sea level. They had been sent to the mountains in Xinjiang Uyghur Autonomous Region to survey seismic activity.
The most seriously ill, a reporter from Xinjiang Television Station, is now out of danger. And the other two, from the Geology Institute of China, are in stable condition. Doctors saythe patients' physical condition is weak, and they are wandering, unable to speak clearly. when they were brought to the hospital on Sunday.
Editor:Zhang Jingya |Source: CNTV