Watch Video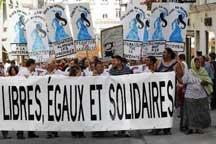 Play Video
Tens of thousands of people have rallied across Europe to protest against the French government's crackdown on a group of migrants, commonly called the Roma people.
Human rights and anti-racism groups, labor unions and leftist political parties organized the rallies. In Paris, about 12-thousand people took part in a peaceful protest.
They claim French President Nicholas Sarkozy's decision to dismantle Roma camps and deport 700 Romani migrants back to Romania violates French traditions of welcoming the oppressed.
Also on Saturday, many Roma support groups staged similar protests in Rome, Brussels and Belgrade. It's estimated about 12-million Roma people live across the 27 EU countries.
Prof. Alex Santino Spinelli, Roma Culture Expert, said, "We are all European citizens, therefore they must have the same rights and the same duties as everyone else. They must have the same chances, but today they are strongly discriminated against and this doesn't allow for a real integration. A positive integration is translated through culture, schooling for Roma children, houses and jobs. This would give dignity to our people."