Watch Video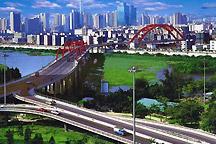 Play Video
Thirty years ago, Shenzhen special economic zone was set up in China. Since then, there have been numerous miracles in its development. Today, Shenzhen welcomes new opportunities and is heading for a new era. Yao Hong has more.
In 1984, the 53-floor International Trade Center was completed in Shenzhen. It only took 14 months to finish this 160-meter building, three days for each floor on average. From then on, "Shenzhen Speed" became a special term to describe fast speed of development.
In 1979, Shenzhen's annual GDP was 190 million yuan. In 2009, it shot up to just over 820 billion yuan, with an average annual growth rate of more than 25 percent.
The first shares in stocks in China were issued in Shenzhen. It had the first stock market and the city was the first to start land auctions, and then establish land markets. During the past 30 years, Shenzhen has been the "first in China" over 200 times.
Huang Fayu, Deputy Dean, Shenzhen Academy of Social Sciences, said, "The development of Shenzhen shows that reform and opening up is the key choice of China."
After 30 years of development, Shenzhen is now facing new opportunities and challenges. The Special Economic Zone chooses to go on with reform and innovation. With the approval of the planning of Qianhai Region, high-end service industries in Hong Kong and Shenzhen will flock together in this region.
Donald Tsang, Chief Executive of HK SAR, said, "To start reform and innovation in the Pearl River Delta, it's better to choose a base. The perfect place is Shenzhen. And in Shenzhen, the perfect region is Qianhai. We hope to comprehensively bring HongKong's service industry into that region."
In June 2010, the State Council approved the plan of expanding the Special Economic Zone to the entire city of Shenzhen. It will continue to play the role of "first mover" and strive to be the "vanguard of China's scientific development".
Related stories
Editor:Yang Jie |Source: CNTV.CN