Watch Video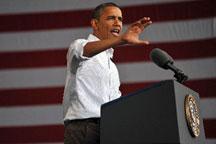 Play Video
US President Barack Obama has unveiled a 50 billion dollar infrastructure package to build roads, railways and airport runways to improve the country's employment situation.
Obama says he wants the US to have the best infrastructure in the world.
President Barack Obama got a rousing reception at this Labor Day event in Milwaukee, Wisconsin.
He was there to announce a six-year, 50 billion US dollar plan to create more jobs and help with the country's economic recovery.
Barack Obama, US President, said, "We are going to rebuild 150,000 miles of our roads - that's enough to circle the world six times. We're going to lay and maintain 4,000 miles of our railways - enough to stretch coast-to-coast."
Transportation experts say 35-thousand jobs are created for every one billion US dollars invested in the construction of transportation infrastructure.
Political analysts say Obama is under pressure to do more to create jobs and bring down the country's stubbornly high 9.6 percent unemployment rate, to gain support for the Domcrats in November's congressional elections.
Obama is using his speech in Milwaukee and a trip to Cleveland, Ohio on Wednesday to set the tone for his autumn campaign. In Cleveland, he will unveil a proposal on increasing and permanently extending a tax credit for business research and development.The tax credit proposal will cost 100 billion dollars over 10 years.
He's also expected to talk this week about a payroll tax holiday, extending tax cuts for the middle class and increasing money for clean energy.
Related stories