Watch Video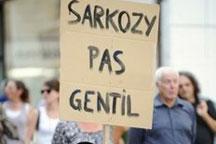 Play Video
Rail and air travellers in France face major delays on Tuesday, as trade unions organize public protests, against the French government's plan, to raise the retirement age.
The strikes are expected to affect public transport and schools. Union leaders, hope more than two million people, will take to the streets, for Tuesday's pension protest, which is organized to coincide with the pension reform bill, being presented in parliament.
French President Nikolas Sarkozy, says he IS ready to make SOME concessions but won;t retreat, on the essentials of the reform.
He wants to raise the minimum retirement age, from 60 to 62, and the age at which people can retire on full pension from 65 to 67.
Related stories
Editor:Zhang Pengfei |Source: CNTV.CN