Watch Video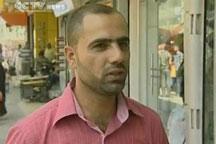 Play Video
Reactions to the drawdown of American forces in Iraq are varied. While many citizens are happy to see combat operations come to an end, some observers are not optimistic, especially given the country's political and constitutional inertia. Baqi Naji reports from Baghdad.
The "New Dawn Operation" is the mission of the remaining American forces in Iraq till the final drawdown by the end of 2011. This pullout had already started few months ago. The American plan is to withdraw from Iraq without causing a security gap. This withdrawal caused a certain echo at the Iraqi arena. As the terrorist powers are still standing in Iraq, the observers think: It is not the right time for this drawdown, especially when the government is not formed, and the parliament is inactive.
Thair Al-Resafi, Political Analyst, said, "We hope the pullout of the American combat forces is a start of new era in which Iraqis live in a safe, secure, and peaceful environment, but the fights of the political blocs, and the precedence of their partial and sectarian interests, is causing pessimism about the future of the country."
Meanwhile, the American pullout caused reactions at the public circles as well. Some citizens believe this withdrawal is the way to absolute sovereignty, while others think the America drawdown creates a motive to the Iraqi forces to be independent without the need for the American assistance.
Local Resident, Baghdad, said, "The timing of the withdrawal is good, so the country may get out of Chapter 7. This will also help improve the readiness of Iraq's forces, give them the chance to be prepared, and leave no chance for any excuse that their lagging is because of the American forces."
Local Resident, Baghdad, said, "The wish and happiness of the Iraqi people is the American withdrawal, in order to get rid of the occupation. On the other hand, the security deterioration in Iraq is also because of the Americans."
Nevertheless, still there are fears that this drawdown may strengthen the presence of certain terrorist cells and organizations, and that may also take the country back to the first quarter of the sectarian strives.
"It is believed that the withdrawal of the American forces may encourage the politicians to speed up forming the government, but when every political bloc is still demanding for certain posts and position, so it doesn't seem that the government will be formed soon. Baqi Naji, CCTV, Baghdad."
Editor:Zhang Pengfei |Source: CNTV.CN